ABT is one of the only trench drain manufacturers that custom designs products and layouts for the residential marketplace.   
While residential stormwater drainage applications are not typically subject to the rigorous environmental regulations of commercial and industrial projects, they can present a few unique critical design issues that should be taken into consideration.  Our residential drainage systems are commercial-grade, easy-to-install products for eliminating surface water in a wide range of residential applications.
Draining any still and standing water around your home protects it from long-term damage. And eliminating stagnant water also protects the residents from environmental hazards. Our highly functional residential trench drainage systems can collect, transmit, and even preserve on-site water with zero waste.
Our residential drainage products can also be used to solve:
excess moisture problems in areas such as garages, basements, and pools
water pooling and flooding in unwanted areas and around foundations
Our clean and high-technology product design is durable and developed to deliver quality results for residential stormwater drainage applications. We deliver and provide our clients with a lower total cost of ownership and make the installation process simple. Years of experience in the industry taught us that it's important to have residential drainage that blends into their surroundings. So, we also offer water management systems that are not only highly functional but beautiful.  Invest in your property and have peace of mind with our innovative residential drainage systems, proven to bring you long-lasting results.
Applications
Driveways
Patios
Garages
Pools
Products
Pre-Cast Products
Cast-in-Place Products
Critical Design Issues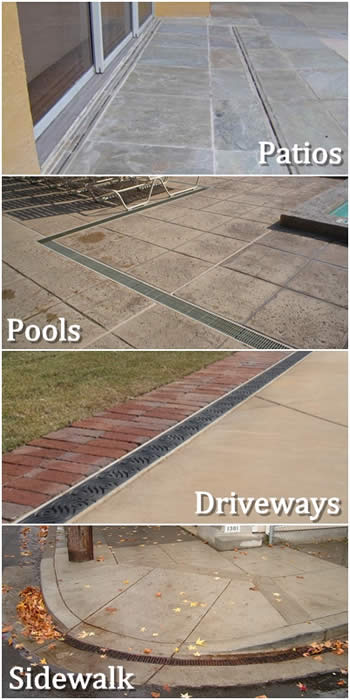 ---
ABT is committed to providing our customers with high-quality and professional services.  Contact ABT today and learn more about our residential drainage systems and their lower long-term price and total cost of ownership!

CALL AT 800-438-6057