POLYDRAIN SHALLOW – Polymer Concrete Drainage Channels
FORMERLY KNOWN AS PICCOLO CHANNELS
PolyDrain Shallow Channels are a shallow polymer concrete trench drain system that offers a practical and economical drainage solution where slab depth restrictions dictate the necessity of a shallow drainage channel. PolyDrain® Shallow features our exclusive "Red Dot" locking blocks and can accept any standard PolyDrain grate. Special support legs attach to channel sides, expediting installation. Numerous outfall options are available, including solid end plates and vertical outlet connectors.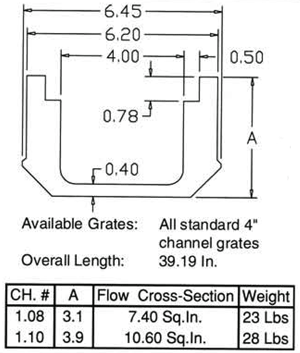 IMPORTANT ISSUES
NFPA REQUIRES NONFLAMMABLE TRENCH DRAINS

Selecting a fire-resistant shallow trench drain system should be common practice for any interior application. Trench Drains are often the collection points for flammable fluids and heavier-than-air vapors. As a result, even when empty, trenches can act as a pathway for flame spread.  For more info, see our Flame and Smoke page.