Storm Runoff Filtration Systems
Our FirstFlush® precast stormwater channels & filters are ideal for space-restricted sites where retention ponds and other structures aren't feasible. We designed this system to filter oil, grease, and other hydrocarbons during the "first flush," or the initial surface runoff during a rainfall, which typically occurs in the first 15 minutes.  
The PolyDrain® series of products features convenient precast construction, and PolyDrain FirstFlush® is an efficient choice for sites under 100 acres where low-volume loads are expected.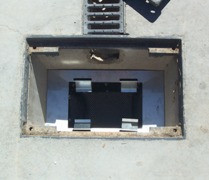 STORMWATER FILTRATION
FILTRATION MEDIA
If you need a storm runoff filtration system that follows best management practice (BMP) and offers superior performance, FirstFlush® gets the job done. This system provides all-in-one functionality—handles sheet flow, controls vectors, collects debris, treats bacteria, and captures hydrocarbons all at once. The FirstFlush® precast stormwater channel systems can use any of the following filtration media and fabrics:
Standard Filtration "Blankets"
Antimicrobial Filtration Media
Hydrocarbon Media
HMR – Heavy Metals Removal Media
Mixed Media