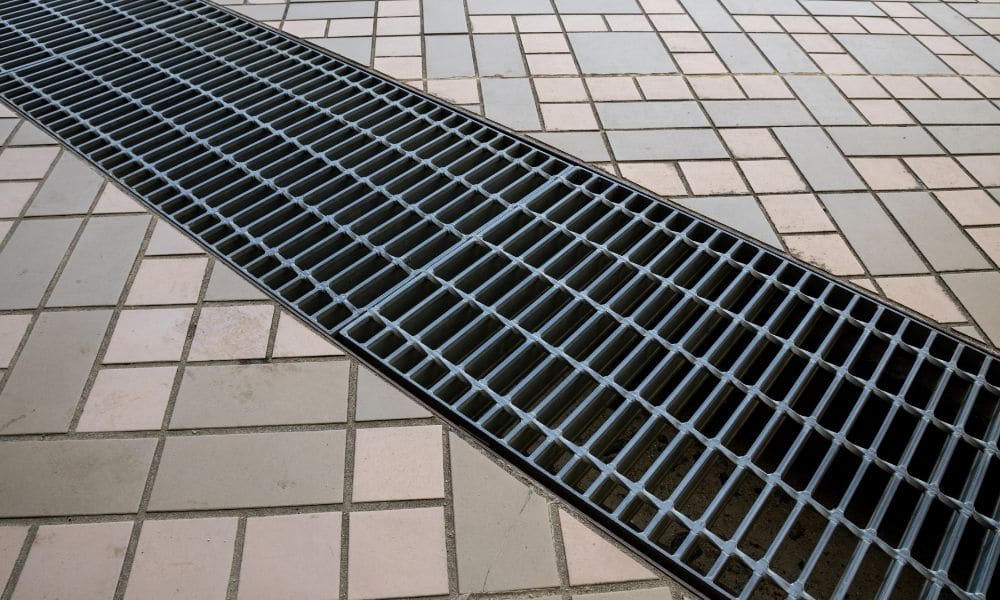 When it comes to loading standards for trench drains, different classes will help you determine the right grate for your needs. This is determined by the description, application proof load of psi, maximum proof load, and typical applicable standards all based on the AASHTO M306 test method. Continue reading for a guide on the different loading standards for trench drains.
Different Loading Classes
Loading Class A: This loading class is used for lightweight duty for pedestrian traffic. The pedestrian load falls at 75 psi and can handle a maximum proof load of 6,000 pounds. For typical applicable standards, the industry standard is foot traffic.
Loading Class B: Medium duty requires loading Class B, which is needed for sidewalks and residential parking. Because of its application, 150 psi is needed with a maximum proof load of 12,150 pounds. When it comes to standards, it falls under light pneumatic tire traffic.
Loading Class C: This class is for grates that fall under the heavy-duty category for commercial use. Loading Class C can handle 310 psi and 25,000 pounds. As far as standards it follows, Class C will take A-A60005 Federal Specification.
Loading Class D: For extra heavy-duty on industrial roads and expressways. The proof load falls at 494 psi with a maximum proof load of 40,000 pounds. The typical applicable standards are AASHTO M306 H-20.
Loading Class E: Anything that is extreme heavy-duty will fall into Class E, which is designed for hard-tire forklifts and heavy-duty vehicles. This means it can handle 620 psi, 50,000 pounds, and falls under AASHTO M306 HS-25 applicable standards.
Loading Class F: This class is airport rated and used in municipal and regional airports. The application proof load is variable, but the maximum proof load is 100,000 pounds. Normal standards are usually designated at FAA AC-150 Regional Airport.
Loading Class G: Another class that falls under airport rating is G, but these trench drains are designed for international or military airports and intermodal port facilities. The proof load for Class G is 2469 psi and it can handle 200,000 pounds. The industry standards for Class G fall under Airport/Intermodal.
Other Standards
There are also other standards to consider for loading standards. These other standards include whether it is ADA compliant, hard-tire rated, heel proof rated, dynamic load rated, and airport rated. These standards are also put into place to ensure that the grate is safe for its environment.
Regardless of the loading standards you need for your trench drains, ABT is here to provide you with the industrial drainage solutions you need. Contact us today.